Features
ViewPointsoftware provides an abundant collection of features that can be used to create and customize a kiosk to your needs.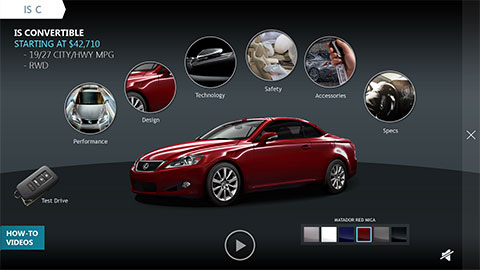 Look and Feel
Responsive Interface
ViewPoint kiosks feature smooth, intuitive touch controls that provide instant feedback and easy navigation, resulting in a powerful user experience.
Landscape or portrait
ViewPoint can play in either landscape or portrait orientation.
Flexible display sizes
ViewPoint is optimized to run on large touchscreens, although it is able to run on almost any display size and still maintain visual appeal, ease-of-use and high performance.
Branding options
ViewPoint can be branded to your company's look.
Content management tools
The ViewPoint editor provides easy-to-use templates for fast content design, and also allows for deep customization of a design when required.
Multiple asset types accepted
ViewPoint is able to use .png, .jpg, .gif, .pdf, .mov, ...
Components
Coverflow with detail panels
Your content can appear on a coverflow of tiles. Tapping tiles takes you to another level of content.
Customizable "idle" slideshow
When a kiosk is not being used, it has an "idle" time slideshow of video, images and text. This provides a digital sign in your facility and also invites customers to walk over and start interacting.
Product configurator
ViewPoint ViewBuild feature allows customers to customize a product, such as an auto, or try out combinations of products, such as furniture.
Product visual search
ViewPoint ViewPick feature enables customers to search a set of products in a unique, visual way.
Custom integration with data sources such as inventory
ViewPoint kiosks can be customized to provide real-time access to inventory, staffing and other systems that help you connect with customers. Inventory includes search, sort, and filter.
Customizable games
Our fun, visually appealing games can be customized to showcase your brand identity.
Customer dashboard
Your branded dashboard provides an opportunity to communicate with your customers and provide useful information like weather and news.
Built-in browser
Viewpoint can seamlessly integrate real-time information from webpages.
RSS feeds
ViewPoint can receive RSS feeds.
Multivideo
ViewPoint can play multiple videos on the same screen at once, with no delay.
Integration with retail managment systems
ViewPoint can send or receive data from many existing retail management software systems.
Check-in
ViewPoint can integrate with check-in systems or just email to notify staff of a customer arrival.
Sales staff communication
ViewPoint provides an option for customers to take action instantly by sending a message via email to a sales associate.
Survey panel
You can create your own surveys to collect customer opinions.
Survey panel
You can create your own surveys to collect customer opinions.
User feedback popup
ViewPoint has a user feedback popup that queries the user for a quick rating of their experience.
Management
Local media storage
Video, image and text assets are stored locally for lightning-fast loading and play capabilities.
Setup wizard
ViewPoint setup wizard can help you setup ViewPoint on your own hardware.
User tracking and reporting
ViewPoint software tracks and analyzes user behavior—showing what people looked at, where they spent the most time, how they moved through the system and more. ViewPoint also provides reports about user behavior and supports exporting data for additional analysis.
Web view
A ViewPoint can be viewed on the web, using it as a preview of a kiosk, or as a web content.
Contact management
ViewPoint collects contact information and allows you to export contacts and/or integration with CRM systems.
Automatic updates
Software updates, as well as new and updated product information, can be updated remotely and automatically, helping you keep your site fresh and accurate. Videos, images and text can be updated remotely or through our content management tools.